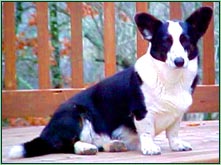 Princess is just that! A loving and sweet-tempered girl. Everyone is her friend and she loves to bring you her toys as gifts. However, Princess is more than personality. She has a nearly perfect front with beautiful shoulder angles, lovely topline and super side gait.

At Princess's first CWCCA National Specialty, she placed fourth in a very large and competitive 6-9 month puppy bitch class. At the 2002 CWCCA National Specialty, Princess was one of only 13 bitch specials out of 59 entries to make the first Best of Breed cut.

Her qualities were recognized on the show circuit, where she earned 5 Best of Breeds and 3 Best of Opposite Sex awards on the way to her championship. We are very proud of this young lady!